I remember when I was a kid, the eagerness I felt when school days where close after a refreshing summer! Friends I was going to meet again, school yard adventures, new classes, school trips and that feeling of achievieng a grow up!
Of course all the excitement went bigger pondering on all new things to come. New school mates, new teachers, new books, but also new bags, pencils, markers, note books, and so on. A kid just can't help it. School adventures are always connected with all these school supplies and accessories, along with other memories.
My most intense memory there, from beautiful back to school days, was the smell of paper in new books. A true love story that never went away. Even today, when I hold a book for the first time, I totally enjoy how the air gets scented by papers full of stories! Many are my childhood's readings that I still remember. If I was to pick out one? That could be Roald Dahl's,
The BFG
. I laughed so much with this book back then, never forgot it.
Of course this wonderful season time couldn't be missed by etsy's creative community! Many artists give their best to make it a truly unique experience! Melissa was so kind to feature my Goldfish Pencil Topper, in her "School Days"
Treasury list
. Thank you so much Melissa!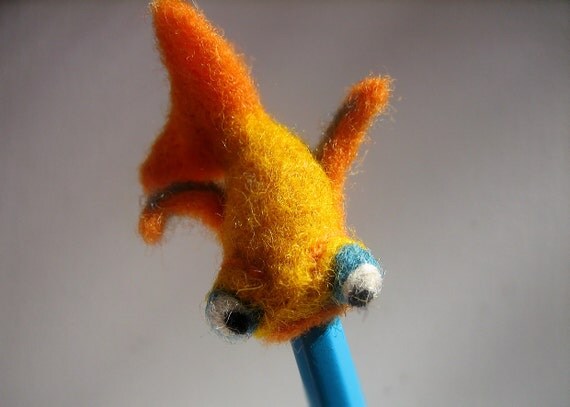 Do you have a school memory you' d like to share? I'd love to hear all about it!
Thank you for passing by friends! Wish you happy readings and a wonderful day! :-)